This is a recommended follow on to one of my previous questions. It was stated that I could find the deflections of a beam by idealising it as a simply supported beam and then calculating accordingly. The loads laterally on the beam would cause a deflection perpendicular to the axis of the beam whereas the side-sway loads would cause deflections perpendicular to the column and thus the beam as well.
The main question is: how do I find the magnitude of the deflection on a particular beam within a rigid jointed multi-storey, multi-bay frame like the one shown below: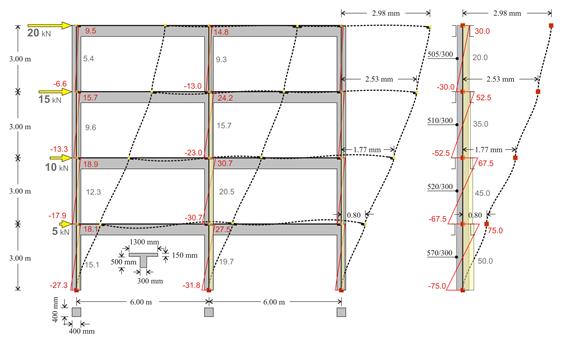 How would I find the lateral deflection of each column and beam using traditional structural analysis methods? I can find the moments and all forces using moment distribution (Hardy Cross) method but I need the deflections in order to use serviceability limit states in design. I've also thought about the slope-deflection equation, however, I can only find the slopes at each end of the beams.
Also, how conservative are these results?